Sofa with Chaise Longue - Medium Grey
Regular price

$4,785.00

Sale
---
---
Vendor: IDNZ
Type:
Sku: null
Available: Available
---
Snuggle up, feel embraced and enjoy cosy nights and lazy days with family and friends. This sofa is extra deep, has soft and moveable back cushions and can be customised to your home and your needs.

GRÖNLID sofa is soft, comfy and inviting to sink into. Deep pocket spring seat cushions, foam and a top layer of polyester fibres takes your comfort to a new level.
You can sit in a way that suits you and feel relaxed for many hours thanks to the movable back cushions that give your body support exactly where it's needed.
Adjust the position of the back cushions to your activity. Place several behind your back for a more upright position or use one or two to make it comfortable for your neck when lying down and reading.
The depth of the sofa makes it perfect to lie down on – and even for taking a nap on now and then.
The sofa's sections can be combined in different ways to get a size and shape that suits you and your home. If you ever need a larger sofa, you can always add a section or two.
You can create your own perfect combination with the planning tool. Assemble, take apart and put together again until it's just right.
You can place the chaise longue section to the left or right of the sofa, and switch whenever you like.
Storage space under the chaise longue. The lid stays open so you can safely and easily take things in and out.
Ljungen is a hardwearing cover made of a polyester fabric with a soft, velvety surface and a slightly reflective lustre.
The cover is easy to keep clean since it is removable and machine washable.
This cover's ability to resist abrasion has been tested to handle 45,000 cycles. 15,000 cycles or more is suitable for furniture used every day at home. Over 30,000 cycles means a good ability to resist abrasion.
The cover has a lightfastness level of 5 (the ability to resist colour fading) on a scale of 1 to 8. According to industry standards, a lightfastness level of 4 or higher is suitable for home use.
The seat depth and total height depend on how you angle the loose back cushions.
7 back cushions are included.
Product dimensions
Height Including Back Cushions: 104 cm
Height Backrest: 68 cm
Depth Chaise Longue: 164 cm
Width: 328 cm
Depth: 98 cm
Seat Depth, Chaise Longue: 126 cm
Free Height Under Furniture: 7 cm
Armrest Width: 18 cm
Armrest Height: 68 cm
Seat Width: 292 cm
Seat Depth: 60 cm
Seat Height: 49 cm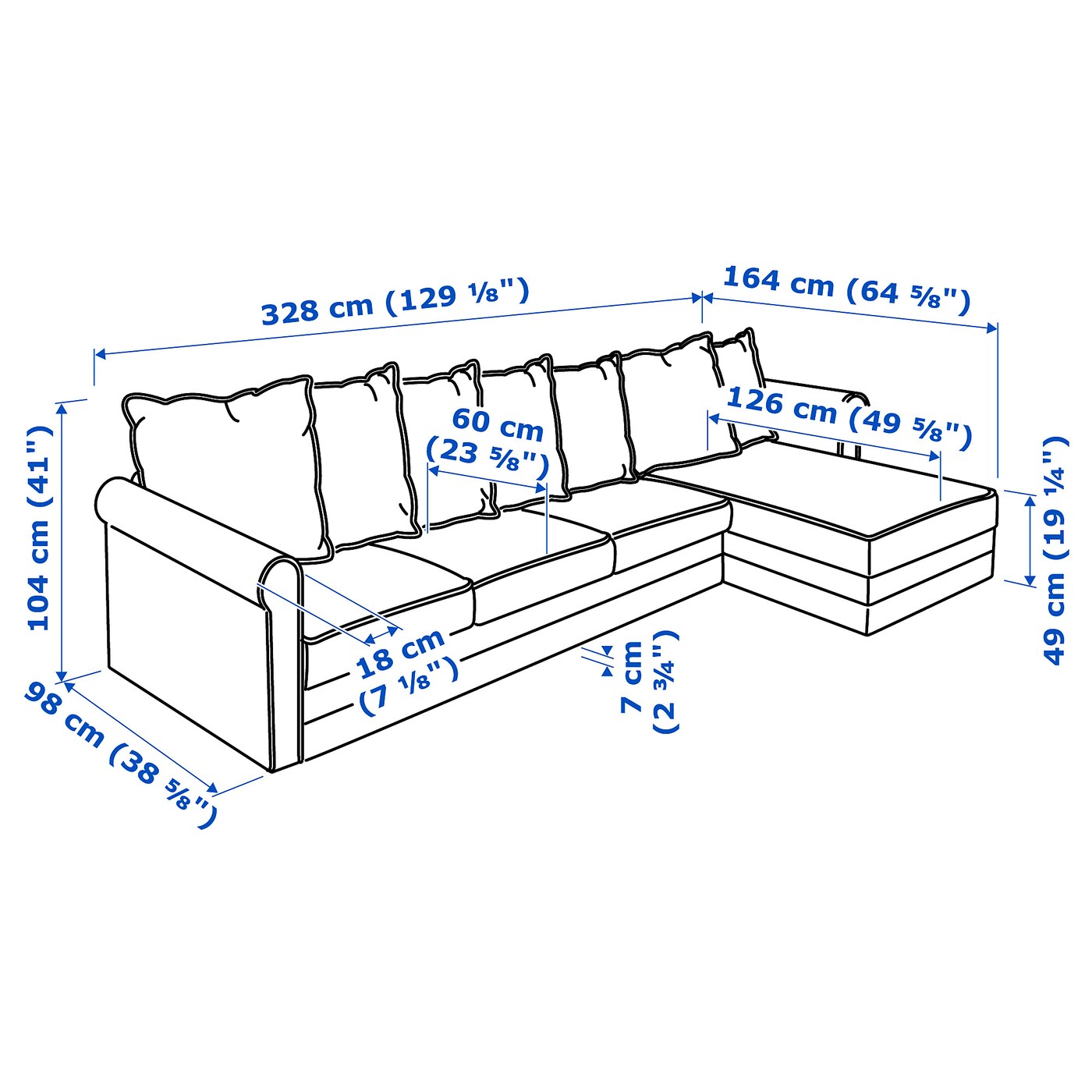 Packaging info
This product comes as 8 packages
GRÖNLID
Frame, 3-Seat Section
This product has multiple packages
GRÖNLID
Frame Armrest
This product has multiple packages
GRÖNLID
Cover For 3-Seat Section
This product has multiple packages
GRÖNLID
Cover For Armrest
This product has multiple packages
GRÖNLID
Cover For Chaise Longue Section
This product has multiple packages
GRÖNLID
Frame Chaise Longue Section
This product has multiple packages